Forming Vol. 1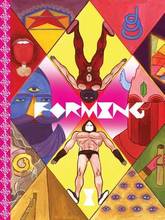 Stock information
: $40

.00

(AUD)

: 9781907704130
: NOBROW
: NOBROW
:
: 0.816
: April 2011
: 305mm X 229mm X 12mm
: United Kingdom
: 45.0
:
:
:
: books
:
:
: Moynihan Jesse
:
: BB
: 711
:
:
: 741.5
:
:
: 112
:
: chiefly Illustrations
:
:
:
9781907704130
Description
Forming, as a web comic, has been making waves since its inception three years ago, enrapturing its followers with its near-daily additions to what has now become a tale of epic proportions. Now it will finally grace the pages of a volume worthy of its contents as Nobrow releases the first part of Jesse Moynihan's epic trilogy. Forming is a super-mystical epic in which Jesse details the spawning of worlds and the trajectory of consciousness on Earth. Volume 1 follows the trials and tribulations of primeval gods and demi-gods as they vie for control of Earth.
Reviews
"Moynihan walks a fine line between "weird" and "incomprehensible" and between "clever" and "dumb," and manages to stay on the right side of it through almost every one of these bizarre, demented panels. I can't say that I've ever read anything quite like this (though it did call to mind the weirder bits of The Incal). I'm glad I did."-Cory Doctorow, Boingboing.net

"To understand Forming (assuming "understand" is the correct verb here), picture some lost Gnostic text translated by Jay (of Jay and Silent Bob) at his cussin-est, under commission by a delusional would-be cult-founder who cut his teeth on the work of Fletcher Hanks and who really liked drawings of weiners and boobies."-Cory Doctorow, Boingboing.net

"Forming is published by London's NOBROW, whose books are fantastically well-made, beautifully cloth-bound and printed on high-quality, sustainably produced paper (they also publish the much-more-kid-friendly Hilda comics). It's a quality product."-Cory Doctorow, Boingboing.net

"Forming is a success on so many different levels. First of all, it's simply a beautiful art object filled with page after page of brightly colored and bizarre images."-Rob Clough, The Comics Journal

"the plot is genuinely complex and even byzantine at times, with multiple betrayals, long cons, and elaborate plans all right below the surface."-Rob Clough, The Comics Journal

"Because it's well-executed, there's essentially a laugh on every single page. It's certainly the most hilarious cosmogony I've ever read."-Rob Clough, The Comics Journal

"Forming, a super strange graphic novel published by the super strange English publishing house NOBROW and written by possible genius Jesse Moynihan."-Scott Beauchamp Full Stop blog

"It's totally stupid, totally goony, and has opened me up to the possibility of becoming interested in graphic novels and comics again."-Scott Beauchamp Full Stop blog
Author description
Jesse Moynihan lives in LA and works as a storyboard artist on the successful cult Cartoon Network show 'Adventure Time'.