Dark Matter And The Dinosaurs: The Astounding Interconnectedness Of The Universe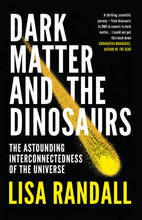 Stock information
: $25

.00

(AUD)

: 9780099593560
: Vintage Publishing
: Vintage
:
:
: January 2017
: 198mm X 129mm
:
: 24.99
: January 2017
:
:
: books
:
:
: Lisa Randall
:
: Paperback
: 117
:
:
: 523.1126
:
:
: 240
: PHVB
:
:
:
:
9780099593560
Description
66 million years ago, a ten-mile-wide object from outer space hurtled into the Earth at incredible speed and destroyed the dinosaurs, along with three-quarters of the other species on the planet. Where did it come from, and why? And how is this connected to dark matter - the most mysterious, elusive stuff in the universe, that interacts with gravity like ordinary matter but doesn't emit or absorb light. Astronomers know it's there but it is literally invisible. Dark Matter and the Dinosaurs tells the story of Big Bang theory, cosmological inflation, the makeup of the universe and our solar system's place in it; it's about mass extinctions through the ages, what we know has hit the Earth and what might hit us in the future. And it explores the radical idea that dark matter might ultimately have been responsible for the dinosaurs' extinction. A horizon-expanding tour of the cosmos that blends what we know about the universe with new thinking, Dark Matter and the Dinosaurs is a book full of wonders, from a gifted scientist and writer.
Reviews
"A bold intellectual synthesis from one of the world's leading theoretical physicists, blending cosmology, astronomy, particle physics and the history of life on Earth to suggest the existence of an entirely new force of nature. This book certainly ventures into the unknown, but that's where great physicists like to be." -- Professor Brian Cox "Fascinating... Dark Matter and the Dinosaurs is a sign that readers of popular science have finally grown up... A very grown-up quest... Randall's writing is as laid back and unfussy as ever. If you appreciated her clear, straightforward style in Warped Passages and Knocking on Heaven's Door, you won't be disappointed by Dark Matter and the Dinosaurs." -- Michael Brooks New Scientist "Weird and wonderful new book." -- Michael Hanlon The Sunday Times "Splendid book." -- Clive Cookson Financial Times "Only Lisa Randall can take us on such a thrilling scientific journey-from dinosaurs to DNA to comets to dark matter and to the past and future of our species. Randall's research is so thorough, the story so powerful, and her storytelling so compelling that I could not put this book down." -- Siddhartha Mukherjee, author of The Emperor of All Maladies
Author description
Lisa Randall is an American theoretical physicist and the Frank B. Baird, Jr. Professor of Science at Harvard University. She has received numerous awards and honors and is a member of the National Academy of Sciences, the American Philosophical Society, the American Academy of Arts and Sciences, an Honorary Member of the Royal Irish Academy and an Honorary Fellow of the Institute of Physics. She is the author of several acclaimed books on physics.