Earth Ascendant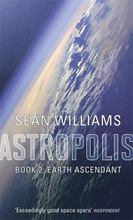 Stock information
: $20

.00

(AUD)

: 9781841495217
: Little, Brown Book Group Limited
: 146862
:
:
: November 2008
: 178mm X 108mm
: United Kingdom
: 19.99
: September 2008
:
:
: books
:
:
: Sean Williams
: Astropolis Ser.
: Paperback
: 1
:
: English
: 823.92
:
: oc2008106740
: 320
:
: map
:
:
:
9781841495217
Description
The combination of a riveting true story and cutting-edge twin research makes this book an irresistible page-turner. Identical twins Begoña and Delia were born thirty-eight years ago in Spain's Canary Islands. Due to chaotic conditions at the hospital or simple human error, the unthinkable happened: Delia was unintentionally switched with another infant in the baby nursery. This fascinating story describes in vivid detail the consequences of this unintentional separation of identical twin sisters. The author considers not only the effects on these particular sisters, but the important implications of this and similar cases for questions concerning identity, familial bonds, nature-nurture, and the law. Begoña and Delia grew up never knowing the truth about their birth, and their parents had no idea that an error had been made. When one twin was confused for the other by a friend during a chance encounter in a clothing store, the twins finally met at the age of twenty-eight. Once the startling discovery of the twins' actual identities was made, the families were traumatized and in shock. The newly reunited sisters were forced to confront shattered identities and deep confusion, as were their parents, brothers, and sisters. Eventually, the case led to worldwide publicity and a lawsuit that dragged on for years. Based on her extensive research into the psychology of twins and exclusive interviews with family members, the author probes the deep implications of this unique situation, exploring many questions of universal human significance: How do mothers know who their biological children are? How much does our family contribute to our sense of self? Are we more like the people who raised us or the people we were born to? Can the legal system ever compensate parents for a mistake that really has no remedy? In exploring these and other thought-provoking questions, the author offers valuable insights into the ways in which our genetic inheritance and familial environments combine to shape the individuals we become. Beyond the case of Begoña and Delia, the author adds context by discussing prior cases of twins and non-twins switched at birth. She also examines custodial decisions concerning children who are the result of donated sperm or eggs by individuals outside the rearing family and offers careful analysis of several options for modifying hospital procedures to prevent the trauma of future baby-switching incidents.
Reviews
PRAISE FOR SEAN WILLIAMS: 'Splendid fun, brimming with heroes, villains, chicanery, neat imaginative details, some seriously cool space battles, and one of the most mind-twisting alien artifacts ever imagined.' Alastair Reynolds 'Chock full of marvelous events, cosmic significance, mysterious alien motivations, and the wonder of outer space.' Science Fiction Chronicle
Author description
New York Times-bestselling author Sean Williams is the author of over sixty published short stories and eighteen novels, including the bestselling Evergence and Orphans trilogies. He is a multiple recipient of both the Ditmar & Aurealis Awards.